< Blog main page
Smart automation: The fast-growing list of use cases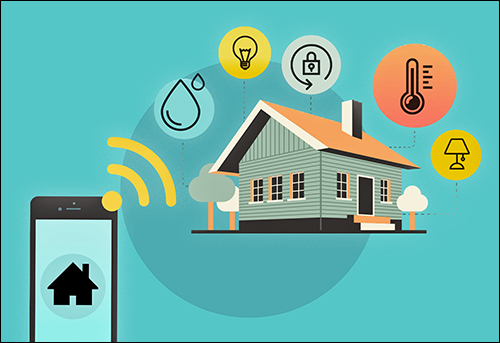 As we progress towards a digital era, there are more and more devices that are finding their way into our lives. It is easy to feel overwhelmed by these devices because of constant notifications or information overload. How easy would it be if there was a way to link all these devices into one cohesive network? This is what smart automation promises to do.
A residence with appliances such as geyser, air-cooler, computer, television, and other capable of communicating with each other is a smart home. These interactive electronic gadgets can understand simple commands you give and thereby, help you in your daily routine. We at Atom8 aim to serve you in the best way possible. Hence, the products we offer are not only smart but also user-friendly. The concept of home automation is popular across the world, but it is relatively new to India. However, an increasing number of people in India who understand the potential of this technology are adopting it. Moreover, the number of devices that comply with this cutting edge technology is increasing.
This remarkable system holds a lot of promise to make your lives easier and relaxed. Read on to find out about how these smart devices can aid you with daily chores.
Applications of smart automation
Run personalized schedules
Have you ever rushed back to your house to check if you switched off the air-conditioner? These minor, time-consuming inconveniences can prove to be an obstacle in our already busy lives where we are hard-pressed for time. With smart automation, you can easily design personalized schedules. The appliances will perform the tasks at the given date and time. These devices will lift the extra burden off your shoulders.
Going on a long vacation with your family and forgetting to feed the fish is very common among people. ATOM8 Duo can help you schedule your fish feeder to give the pre-decided amount of food at a particular time. This allows you to enjoy worry-free traveling.
Waking up to the aroma of freshly brewed coffee is truly blissful. The ATOM8 Quad module allows you to schedule your coffee maker or toaster as per your needs!
ATOM8 Uno Heavy Duty 16A fits very well in your morning routine. It allows you to experience true intelligence with chores such as switching on your geyser before you wake up or turning on the air-condition even before you step a foot in your office. You can even load your washing machine and schedule it so that the laundry is already done when you get home from work!
Adjusting the shades of your home is undoubtedly a time-consuming and tiresome task. You can have a pre-designed schedule according to which the
Talk to your home
After an entire day of hard work, all we wish to do is laze on the sofa and relax without any interruptions. It might not easy to find leisure time to simply unwind. Mundane tasks like adjusting the lighting or searching the A.C. remote can frustrate us. Smart homes allow you to control the devices with voice control via Google Home or Amazon Alexa. This enhances the system's already existing skills.
You can control the lighting, temperature, appliances, shades, and a lot more with your voice! With your hands full of groceries, just talk to your home and let it do the rest. You can configure your smart home products easily with a few simple steps and enjoy the automation experience.
Senior citizens and specially-abled people
For the elderly or specially-abled people, who have locomotion difficulty, this technology is a boon. Smart automation can increase their quality of life, without which they would probably require institutional care or caregivers. This opportunity for independence can help them regain their determination and confidence.
Are you worried about your grandparents when they're alone at home? Fret not! Our smart devices can help them access the appliances through their phone so that they do not have to walk. This adds a layer of convenience in their lives.
Final thoughts
Household chores take up so much of our time that we could have otherwise spent doing something else. We can now streamline these chores with the home automation technology, which is now no more a luxury.
With the smart home technology infusing itself in almost every sphere in life, your quality of life may increase significantly. In the recent future, the markets will explode with smart home products. The benefits of these devices are only limited by your imagination.